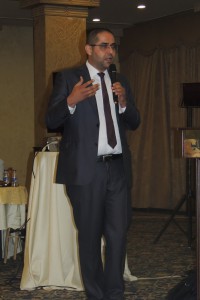 Eng. Ammar Abu-Drais
Founder CEO
Ammar Abu-Drais is an environmental engineer with more than 15 years' experience in fields of solid waste management, including preparing feasibility studies and environmental diagnosis for waste management, treatment, infrastructure, waste strategy, design and operation of collection systems, alternative waste technology selection, recycling, packaging waste minimization and city cleaning operations and  management.
Mr. Abu-Drais has an excellent knowledge in Impact assessment, risk management, site due diligence, permitting and Licensing, environmental management, and market sustainability related to the environmental projects and waste facilities.
His is experience includes full familiarity with country environmental and solid waste strategic plans, laws, regulations as they apply to environmental projects or waste related applications. Mr. Abu-Drais has performed many Knowledge and Know-How transfer, training sessions, capacity building programs to public and private staffs in fields of environmental awareness, communication, Waste management, Best Environmental Practices, Waste Treatment, City cleaning operations, and Environmental plans and procedures.
Mr. Abu-Drais is the Executive Director in GREENPLANS Environmental Consultants, which gives him a global responsibility for promoting technical excellence in this area.
Main Projects and Experience
Supporting Refugees Hosting Communities in Waste Management "Long Term Expert – Municipal Solid Waste Collection Trainer
Improvement of Waste Management Equipment in Northern Region Hosting Syrian Refugees
National Strategy for Municipal Solid Waste in Jordan 2014, Al Mostaqbal Engineering and Environmental Consultants, Amman-Jordan.
Feasibility Study for Developing Dair Alla Landfill, 2014. Jordan. Al Mostaqbal Engineering and Environmental Consultants, Amman-Jordan.
Feasibility Study for the use of RDF from Municipal Solid Waste as Substitute Fuel in Cement plants in Jordan. 2014, ALBA GmbH. Jordan.
Supervision the Solid Waste Management Program in Public Services Areas, AIMS GROUP, Ajman-UAE, 2011-2013.
Solid Waste Management in Zarqa, Russiefah and Hashmyeh, Zarqa Basin Project, Arab Center for Environmental Health.2009 Jordan.
Integrated Solid Waste Management Plan" Study for the Dead Sea Development Zone. January 2011.
Integrated Solid Waste Management Plan" Study for the Petra Regional Authority. March 2010.
Household solid waste sorting and separation at the source in several domestic districts in Amman, A German PPP Project, 2009